Have you ever dreamed of attending a game in every NHL arena in the league? Does it seem unfathomable to think that one single human being can experience the individual excitement and energy that each NHL city can provide? One man's mission is to prove that it is possible to take in a game for each one of the franchises in the National Hockey League at their home arena. Hans Steiniger is the ultimate fan when it comes to the world of sports. With an in-depth knowledge that extends beyond that of a casual fan, Hans completed his Quest for 31, attending a game in every stadium in the NFL, in 2009 which took him to sports towns all over the country.† Hans's Roundball Roadtrip (NBA Arena excursion) and Frozen Pond Pilgrimage (NHL Arena Tour) will extend his professional sports journey to include the National Basketball Association and National Hockey League.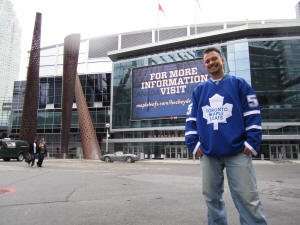 With this website, Hans looks to provide the necessary resources for those who aspire to follow in his footsteps. Here you will find in-depth information on each individual NHL city and hockey arena. By building a strong knowledge base that consists of where to find cheap NHL tickets, how to enjoy each NHL city for everything that they offer, and other stadium and arena outlets to explore, FrozenPondPilgrimage.com can be your one-stop shop for everything that has to do with the exploration of the National Hockey League. Not only does the site offer some great advice about the game of hockey, it also allows you to see what makes these individual cities so attractive to tourists and visitors.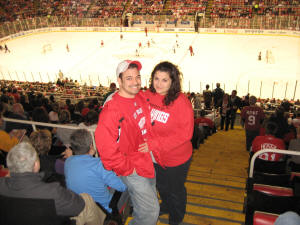 Hans continues to make it his destiny that every sports arena in the United States and Canada will be fully reviewed in an unbiased, unfiltered manner. There is a great wealth of knowledge across the three individual Pro Sports Venue websites that he has assembled, and you would be well served to take the necessary time to explore everything that a site like FrozenPondPilgrimage.com can provide. With young superstars like Sidney Crosby, Alex Ovechkin, and Ryan Miller, the NHL continues to become increasingly popular as more people come to appreciate the skating and puck handling wizardry that is involved in the game of hockey.



What is the Frozen Pond Pilgrimage?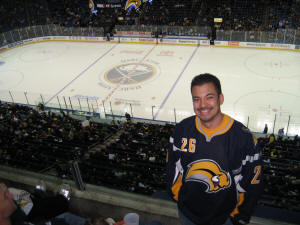 Just like his Quest for 31 pro football journey and Roundball Roundtrip basketball adventure, Hans has dubbed his journey to make an appearance at each NHL Arena the Frozen Pond Pilgrimage. With an insatiable appetite for the sport of hockey and the culture surrounding it, Hans looks to provide insight into each NHL city that can not be found anywhere else. With an eye for what ultimately will interest the traditional hockey fan, he aims to seek out the best restaurants, nightclubs, and points of interest that are associated with the NHL's thirty arenas. Each hockey town is vastly different in the scope of how they celebrate NHL hockey and what role the National Hockey League plays in the local community.

If you're looking to complete a similar trek across the United States and Canada, there are plenty of links on this site that highlight where to go and what to look for, as well as provide you with the ability to purchase cheap NHL tickets along the way. As was the case with his two other expeditions, Hans looks to uncover all of the subtleties that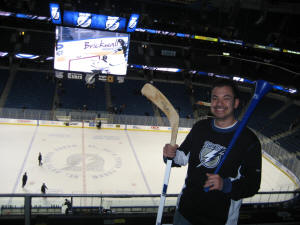 makes cities like Vancouver, Ottawa, and Calgary so different from United States NHL cities like Detroit, Chicago, and Philadelphia. By the way of a thorough investigation, he searches for what it is about hockey that draws citizens of each city to watch the sport on a nightly basis. Along with this analysis, you'll find reviews of popular eating establishments and what they might offer to you as a patron. In addition, if you're coming to the arena from out-of-town, our website provides a full rundown of how to get to the arena, where to park your vehicle, and how to completely enjoy your experience once you are inside the building.




My Latest NHL Arena Reviews
Air Canada Centre - Toronto, Ontario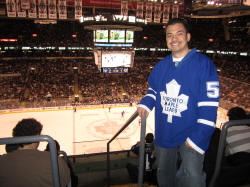 Thereís something about the Canadian way of life that just seems to appeal to me. With its wide expanses of untapped wilderness, its international cities and small towns that harbour a down to earth, fun-loving culture, how could one not embrace our neighbors to the North? Their national anthem reads like an Ode to Greenpeace, and their dedication to the sport of professional hockey is unmatched throughout the rest of world. In a land where ice hockey is the national pasttime, where kids learn to skate as soon as they can walk, this is where a quest like the Frozen Pond Pilgrimage could really take root.
In March 2011, I traveled to Toronto, Ontario to assemble the ultimate NHL Hockey experience in a city that lives and dies by their beloved Toronto Maple Leafs. My goal was to stitch together a full day of NHL Hockey related activities culminating in a matchup between the Toronto Maple Leafs and Boston Bruins at the Air Canada Centre that evening.

TD Garden - Boston, Massachusetts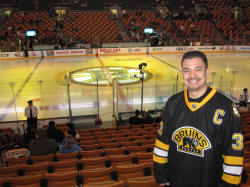 The city of Bostonís reputation for great sports fans is well deserved, as the emotional investment thatís made on the part of these fans into their local teams is evident all over the city. To truly appreciate the Bostonian Sports scene, if you're visiting from out of town, Iíve found that itís important to stop in on several hotspots around town in order to soak up the local culture and actually become a part if it. So in an effort to personally understand what the Beantown NHL hockey experience is all about, I was on hand in early March to watch the Boston Bruins take on the Pittsburgh Penguins at TD Garden as part of my Frozen Pond Pilgrimage.
I began my Boston Bruins experience with a visit to a place thatís developed iconic status in the area since the 1980ís, the old Bull and Finch Pub, which today is simply known as ďCheersĒ. The exterior is immediately recognizable, but fans of the popular sitcom will quickly realize that the producers of the show took several creative liberties in designing the

United Center - Chicago, Illinois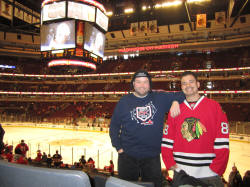 Chicago, Illinois is a great sports town. Boasting representation in all four of the major professional sports leagues, fans residing in the Chicago area have wealth of professional sports options available to them throughout the year and a unique fan subculture has evolved in the area. The typical Chicago sports fan is a die-hard follower of the home team with a diverse knowledge base and a storied history of success. What stands out, apart from the unwavering support of the hometown product, is the connection to local taverns and restaurants that are as much a part of Chicagoís sports traditions as the teams themselves. Founded in 1926, the Chicago Blackhawks were part of the group of six teams that comprised the National Hockey League for the 25 seasons between the 1942Ė43 season and the 1967 NHL Expansion. These teams, including the Boston Bruins, Detroit Red Wings, Montreal Canadiens, New York Rangers and Toronto Maple Leafs, are now known as the Original Six. Winning four Stanley Cups since their formation, with the most recent in 2010, I knew that a trip to the United Center, the home of the Chicago Blackhawks, would prove to be an invaluable experience as


St. Pete Times Forum
- Tampa, Florida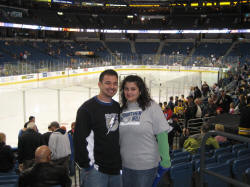 Thereís something that just seems unnatural about watching professional ice hockey in a warm weather city like Tampa, Florida. But as the NHL looks to expand, and Iím all for expansion, these warm weather cities are a natural fit to help increase the footprint of a game with a strong northern presence. I was in south Florida on the heels of my trip to Super Bowl XLIV in Miami and couldnít pass up the opportunity to watch the Tampa Bay Lightning as they played host to the Boston Bruins at St. Pete Times Forum in downtown Tampa.
The home of the Tampa Bay Lightning, St. Pete Times Forum, is situated it a great little stretch of the downtown area. Parking lots around the area ranged in price from $5-$15 and it appeared as though finding parking is typically not going to be an issue. The area around the arena has several bars and taverns that are worth checking out. Across the street is a spot called Hot Tuna, formerly Hot Tuna in Tampa on the Frozen Pond PilgrimageAndreychuckís, thatís a great place to grab a burger and your favorite ice cold beverage of choice.

HSBC Arena - Buffalo, New York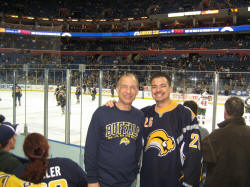 The city of Buffalo, New York is a great blue-collar town with a solid tradition of die-hard support for their local franchises. Buffalonians are a resilient breed of sports fan that has seen its share of heartbreak when it comes to World Championships, but through these disappointments, a solid fanbase of unwavering supporters has been fortified continuing to press on. It is this group of fans that come out to HSBC Arena throughout the NHL season to watch their beloved Buffalo Sabres take to the ice in downtown Buffalo. The return of the Blue and Gold to prominence under head coach Lindy Ruff and superstar goaltender Ryan Miller means that this long suffering fanbase can finally breathe a sign of relief as the Sabres have shown they are relevant in the hunt for Lord Stanleyís Cup.
Pearl Street Grill & Brewery on Frozen Pond PilgrimageTo kick off my HSBC Arena experience, I like to go to the Pearl Street Grill & Brewery before the game. Located just up the street from HSBC Arena and a short Metro ride away, this microbrewery offers some exceptional draft beer and great food. With a pregame buffet featuring local favorites before

Joe Louis Arena - Detroit, Michigan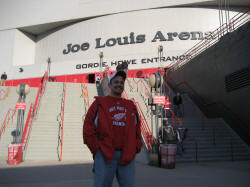 In kicking off my quest to see an NHL hockey game in every arena in the National Hockey League, I figured that no place would make a better inaugural trip than Hockey Town itself, Detroit, MI. With eleven Stanley Cups, six Presidentís Trophies and a solid fan base of blue collar rowdies, the city of Detroit seemed like an ideal spot to kick off my crusade.
The Joe Louis Arena downtown is an aging facility, but itís centrally located with mass transit monorail access and plenty of parking within walking distance of the arena. Situated adjacent to the Cobo Hall Convention Center, we ended up parking in the Cobo Hall basement for $10 and walked to the arena from there. As you walk through The Joe, the ghosts of great ones are there to greet you as you enter. The main entrance is flanked with statues depicting the likeness of Detroit Hockey Town legends, Gordie Howe statue at Joe Louis Arenaincluding Gordy Howe and Ted Lindsay. Joe Louis Arena is a great venue within which to watch some premiere NHL Hockey with a solid local tradition for excellence on the ice. As you enter through the red curtains into the seating areas, the amount of banners hanging from the rafters is intimidating. The bar for success is obviously set extremely high, as year after year the Detroit Red Wings respond with a solid effort that takes them deep into the playoffs. The crowd is one of the better NHL crowds in the league as well. Noise levels and spirits are soar throughout the game as the crowd becomes a large

Quest for 31
Superfan Hans Steiniger began his stadium travel experience with a journey to attend a professional football game in every active home stadium for all thirty-two NFL teams. Dubbed the "Quest for 31," this immersive study on the home team experience across the National Football League was completed in four years as Steiniger attended over 60 football games in thirty-one NFL cities. By tailgating with locals, eating local foods, and drinking some great local brews, Steiniger created an exceptional stadium travel resource that offers suggestions for the best of each NFL city as well as a way to find

cheap NFL tickets

online.
Roundball Roadtrip

As a result of the overwhelming success of the Quest for 31, Superfan Hans Steiniger sought out a new challenge. This time he looked to attend a game in every arena in the National Basketball Association. Dubbed the "Roundball RoadTrip" this thirty arena NBA crusade will take Steiniger to pro basketball cities all across the nation in an effort to uncover the best local restaurants, bars, and points of interest that each NBA city has to offer. Like the Quest for 31, Steiniger has setup relationships with each of the top online ticket brokers in order to offer

cheap NBA tickets

to potential Roundball Roadtrippers. Be sure to compare prices online.
Frozen Pond Pilgrimage

The game of hockey is fast and furious with a physical presence that you won't find in any other sport. and its fans are as passionate a group as you will find anywhere in the world. These are the types of individuals that Superfan Hans Steiniger hopes to find on his Frozen Pond Pilgrimage, a survey to uncover the best that the NHL has to offer. Becasue the NHL is an international league, the Frozen Pond Pilgrimage also seeks to include the best Canadian sports cities to create the ultimate resource for helping NHL fans find

cheap NHL tickets

. Attending multiple games in cities all across North America, Steinger will bring you their best.