There's something about the Canadian way of life that just seems to appeal to me. With its wide expanses of untapped wilderness, its international cities and small towns that harbour a down to earth, fun-loving culture, how could one not embrace our neighbors to the North? Their national anthem reads like an Ode to Greenpeace, and their dedication to the sport of professional hockey is unmatched throughout the rest of world. In a land where ice hockey is the national pasttime, where kids learn to skate as soon as they can walk, this is where a quest like the Frozen Pond Pilgrimage could really take root.
In March 2011, I traveled to Toronto, Ontario to assemble the ultimate NHL Hockey experience in a city that lives and dies by their beloved Toronto Maple Leafs. My goal was to stitch together a full day of NHL Hockey related activities culminating in a matchup between the Toronto Maple Leafs and Boston Bruins at the Air Canada Centre that evening.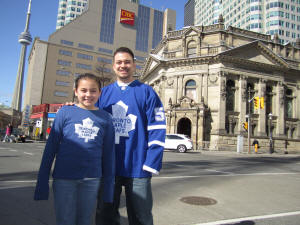 The ultimate NHL experience in Toronto has to begin with breakfast at Tim Horton's for some great coffee and fresh baked goods. Tim Horton's began as a coffee and donut chain in Hamilton, Ontario in 1964. It was founded by Toronto Maple Leafs defensemen Tim Horton who played in the NHL from 1949 until his death in a tragic car accident in 1974. Since its creation, the chain has expanded across Canada and into the Midwest and Northeastern United States. Tim Horton's has become a Canadian institution, offering an expanded menu beyond the original coffee and donuts. It's like an upscale Canadian McDonald's with a healthier menu and without the freakish-looking red-headed clown. The coffee is excellent and their breakfast sandwiches really hit the spot.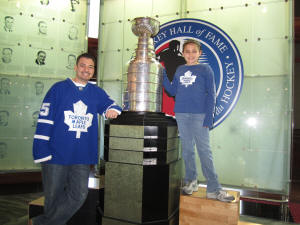 Heading into downtown Toronto after breakfast, the next stop has to be the Hockey Hall of Fame. For a reasonable entry fee ($15.00 adults, $10.00 kids), visitors to the Hockey Hall of Fame can spend the entire day perusing memorabilia, learning about the origins of the sport, or taking part in some interactive games. Entering the Hall, fans will find displays dedicated to NHL legends as well as the players of today. Jerseys, equipment and artifacts from the game of ice hockey fill a 60,000 square foot facility. A walk through the NHL Zone and the World of Hockey display areas will reacquaint visitors with some of the most electric players in NHL history as well as some of its brightest stars today. The highlight of any visit to Pro Hockey's hallowed Hall has to be a visit to the Great Hall which houses NHL Trophies such as the Vezina, Hart, and Calder as well as the greatest trophy in the world of professional sports, Lord Stanley's Cup. Rounding out your visit you'll want to head into the NHLPA Be A Player Zone, where NHL fans can take part in interactive games donning a set of goalie pads or testing their best wrist shot with actual pro equipment. The Hockey Hall of Fame is one stop that you won't want to miss when you're in town and I highly recommend finding the time for a visit.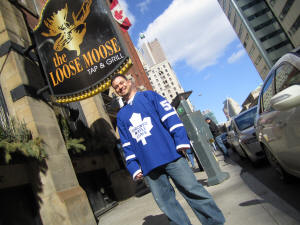 After spending the day revisiting the Legends of the Game at the Hockey Hall, I thought it might be time for a couple of quick pints before dinner and the city of Toronto was happy to oblige. The downtown area is packed with lots of great brew houses and pubs, making an impromptu pregame pub crawl an absolute necessity before heading into the Air Canada Centre. If I'm just stopping in for one or two, I like the Loose Moose Tap & Grill, a great little spot near the ACC with a solid selection of draft beers and an excellent menu. According to my Canadian brethren, the term "loose moose" in another one of those delightful local Canadian euphemisms that refers to certain members of the female gender, "too much meat in the canoe," is how it was explained to me … but I digress. For other local pub recommendations, be sure to check out my
Toronto Raptors Review
or the Toronto Local Information section below.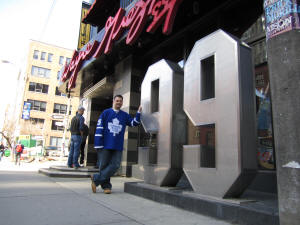 Dinner was set for Wayne Gretzky's restaurant, which is located a few short blocks from the Air Canada Centre on Blue Jay's Way. A native of Brantford, Ontario, "The Great One" maintains ties to the Toronto area and dinner at his restaurant is an excellent way to cap of a full day of NHL game time preparation. The menu offers an excellent selection of sports grill favorites such as pub burgers, sandwiches, and appetizers, but where Gretzky's excels is in some of the dinner entrée selections that include a few of Wayne Gretzky's personal favorites along with some family recipes as well. Patrons can also peruse an impressive collection of Wayne Gretzky memorabilia that spans the breath of "The Great One's" hockey career, from youth hockey to the pros and through his association with Team Canada in the Olympics. The food is excellent and the atmosphere of this upscale sports bar is not to be missed.
Soon it was onto the Air Canada Centre for the main event, the Toronto Maple Leafs showdown with Zdeno Chara and the Boston Bruins. What stuck me most as I walked the concourse at the Air Canada Centre is that fans of the Toronto Maple Leafs have an impressive selection of concessions to choose from. Anything from Asian stir fry and fresh Japanese sushi to burgers, gourmet sandwiches, and wraps are all available within the confines of this busy pregame concourse. The variety of draft beer available was equally impressive.
Prior to game time, I wandered down toward the ice to watch the pregame shoot. As Maple Leafs players warmed up their goaltender, deflected wrist shots rang off the glass while laser sighted potential game winners entered the net in the top shelf corners. The accuracy and power of these NHL players was clear and it's always nice to get a feel for the speed and power of the game at ice level before retiring to the upper deck with the rest of the proletariat.
Sitting in the upper deck, I was actually quite impressed with the quality of the Air Canada Centre's padded vinyl seats. Unlike the hard plastic you might find in the upper deck levels of other arenas, the Air Canada Centre provides a seemingly posh seating experience for the typical Maple Leafs Fan. The upper deck areas also had a metal safety rail, located just below eye level, to keep fans situated in their row, as these upper deck levels are much steeper than the lower bowl.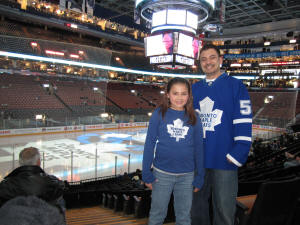 When the game began, the arena was filled with an impressive fan energy generated by one of the more boisterous fans bases you'll find in the National Hockey League. With the Toronto Maple Leafs fighting for their playoff lives, any misstep could mean an end to their season, so a win tonight against a floundering Boston Bruins team would allow the Maple Leafs to stay in the playoff hunt. After the national anthem, chants of "Go Leafs Go!" began as this crowd was ready to will their team to victory. The Maple Leafs would strike first with a goal by defenceman Luke Schenn at 9:44 in the first period. The Bruins countered two minutes later with a goal by Adam McQuaid, but Toronto took the lead for good with Nazem Kadri's first NHL goal at 12:26 in the first period. From there the rout was on, Bruins Goalie Tim Thomas let in four goals before being pulled in favor of Tukka Rask and the Toronto Maple Leafs celebrated a 5 -2 win over Boston.
The Air Canada Centre is an incredible place to watch some NHL hockey and as this young team continues to improve, the future of the Toronto Maple Leafs organization looks bright. Go Leafs Go!
For more information on the city of Toronto, Ontario check out my other reviews by clicking on the link below:
NHL: Toronto Maple Leafs, Air Canada Centre - General Information
NBA: March 18, 2011 - Washington Wizards vs. Toronto Raptors
NBA: Toronto Raptors, Air Canada Centre - General Information
Top Tourist Attractions:
CN Tower
,
Toronto Eaton Centre
, Nathan Phillips Square
Hockey Hall of Fame
, Casa Loma,
Harbourfront
Local Foods:

Poutine (French fries covered in cheese curds & gravy)
Toronto Sausage Vendors "Street Meat" (accented w/ variety
of toppings)


Popular Bar Districts:

Near ACC (Real Sports Bar & Grille, Hoops Sports Bar & Grille,
The Loose Moose)
Old Town (Flatiron & Firkin, The Jersey Giant, Scotland Yard
Pub, Fionn MacCool's Irish Pub)
Richmond Street (
Club Cayo Coco
, Lot 332, Circa,

This is London
,
Runway 224
, Frequency)
Adelaide Street (
Courthouse
,
Bar 244
,
Crocodile Rock
)

Yorkville (
Club V
,
Babaluu
,
Lobby Night Club
)

Alleycatz Live Jazz Bar
- located on Youngs Street


Best Restaurants:
360 Restaurant
- located top of the CN Tower (Fine dining)
Harbour Sixty Steakhouse
Harbour Sports Grille (waterfront sports bar)
Wayne Gretzky's Restaurant (sports bar)

Gabby's
(Pub Grub)
Fan
Resources:
Pocket Map of Toronto
Metro Rail Map (Subway/RT)
Local Sports Media:
Toronto Star
FAN 590
Where To Stay:
The Air Canada Centre is located in the heart of downtown Toronto. If you're going to a Toronto Maple Leafs game, you'll want to take full advantage of everything the international metropolis of downtown Toronto has to offer. With its theatre districts and world class dining, plan to stay downtown. I recommend the Fairmont Royal York or the Intercontinental Toronto Centre.
Getting to the Arena:
The Air Canada Centre is located in downtown Toronto with plenty of parking available. However, Toronto is notorious for its horrible traffic. Be sure to leave early if you're driving downtown for a game. You're best bet is to stay in the downtown area and take the subway. To get to the Air Canada Centre, take the Yellow Line (Yonge-University-Spedina) to Union Station which lets you off at a tunnel leading directly into the Air Canada Centre.
Planning Your Next Trip to see the Toronto Maple Leafs at the Air Canada Centre?
I've set up this website to help others that are interested in NHL Travel. Below you'll find links for cheap Toronto Maple Leafs tickets, arena seating charts, local weather, restaurants and hotels ... everything you need to plan a successful trip to the Air Canada Centre.
Compare Prices for
Toronto Maple Leafs Hockey
Tickets Here:

Click on the following links for Toronto Maple Leafs ticket availability at each of the top online ticket brokers on the web. Try each link to find the cheapest NHL ticket prices:

Toronto Maple Leafs Game Schedule
TicketCity.com
StubHub.com
TicketNetwork.com
RazorGator.com
VividSeats.com